Mercury is pairing unbeatable engines with unbeatable offers
Mercury is – for the first time – offering a trio of great deals across its amazing FourStroke range from 3.5-150hp.
Deal 1 – Save up to $800 on 3.5-60hp FourStroke engines.
Deal 2 – Free SmartCraft rigging on 75-150hp FourStroke engines.
Deal 3 – 3.99%* Mercury Finance on 40-150hp FourStroke repower.
Even better, the mighty 150hp ProXS is included in Mercury's summer deals for the first time, as are all SeaPro and ProXS models in the relevant horsepower categories.
When repowering with 40-150hp FourStroke during the program, customers can pair the fantastic saving with a first class 3.99% finance rate.
All three deals only run until 18th November 2019, so move fast if you want to secure your saving.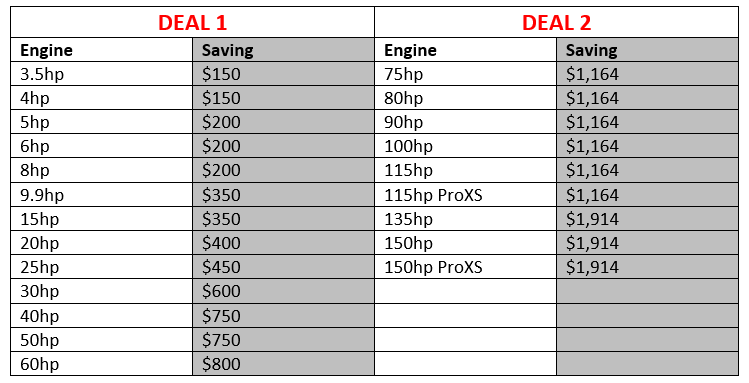 For owners looking in the 75-150hp range, SmartCraft rigging can make all the difference to your boating experience. SmartCraft gauges bring all your vessel's information together onto one simple-to-navigate device – including speed, rpm, trim, depth, alarms, water pressure, fuel flow etc – as well as allowing control of specialist systems such as Mercury's Active Trim.
Through this program;
Both kits include remote cables and all other relevant components.
SmartCraft gauges give you all the vital information that you need to improve performance, stay safe and protect your amazing new engine.
Backed by decades of marine power innovation and product leadership, Mercury FourStroke outboards deliver legendary performance and forward-thinking technology.
Mercury engineers, the best in the business, have designed the FourStroke range to deliver no-compromise performance, fuel efficiency, reliability, innovative features and smoothness to ensure maximum fun, maximum confidence.
They simply make boating better.
So, to benefit from any of these three great deals, contact your nearest participating Mercury dealer today.